Change, it ain't always easy
SmartCreative turns five this year. Five! It's been a really fun first few years; I have built a bunch of websites (250 or so is a good estimate!), learned a lot about business and myself, and made some invaluable personal and business connections along the way.
When I started out, I wanted to be an agency that was different. I wanted to follow through on my promises and I strived to deliver projects on time and on budget. That hasn't changed. What has changed? I have partnered with a couple of clients in the outdoors industry that are simply a natural fit for me, and over time I've realized I want to do more work for more clients like them. In examining the brand I unveiled when I started, it was really aimed at small businesses that were looking for reliable, cost-effective help in succeeding online. I still want to help those businesses (there is definitely a need for cost-effective creative work), but I also wanted to attract more clients who serve the outdoor industry. So, it was time to follow my own advice, dig deep, and find out what inspires me to do my best work.
Goodbye old, hello bold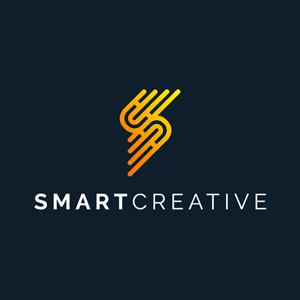 Featuring an orange-to-yellow icon, a powerful and clean font, and blue backgrounds, the new SmartCreative represents many different things.
The icon shows the passion within, that burning fire to always be on the lookout for my client's best interest. It promotes technology and the advances in recent years that make it possible for me to easily work with a client in Alaska without having to fly there (though I do want to!). The color palette represent the gorgeous spring and fall sunrises I see while bike-commuting to my office. To me, there is nothing more inspiring than heading in and seeing those colors light up the sky over the cool blue waters of the Houghton/Hancock shipping canal. Join me one morning and I'll show you.
The font is clean, bold, and reflects my design style. I strive to design clean and simple things, and am always removing design elements and stripping a design back to its basics. The less clutter there is in a design, the more it speaks to me.
The blue backgrounds I use throughout the site are simply representative of the outdoors. The dark blue sky after a sunset. The color of Lake Superior when she's all riled up in November. The color of the clouds as we are about to get walloped with the endless Keweenaw lake effect snowstorms. The color speaks to me, and when coupled with the design and the font, it says a lot without saying a lot.
What is next
SmartCreative has grown, I have grown, and it seems like my kids are growing way too fast. My family has staked its roots here in the Keweenaw and there is no place that we'd rather be. Time and time again I heard that the Upper Peninsula is dead, that it's not growing and not a good place to grow a business. Well, I beg to differ. There is an energy up here, and it's being driven by others like myself who have taken the bull by the horns and created a job where they wanted to live. The Keweenaw Peninsula is alive and it is my hope that SmartCreative can help others discover how they can lead the charge.
Wishing you all the best!
Scott Niska
Founder