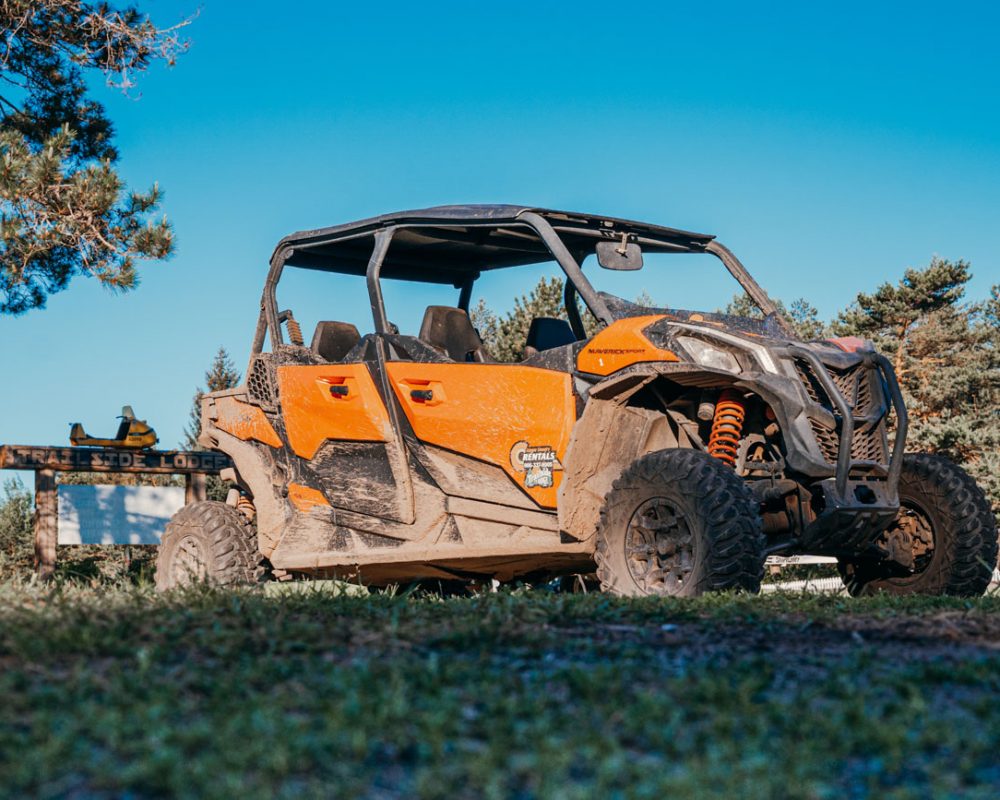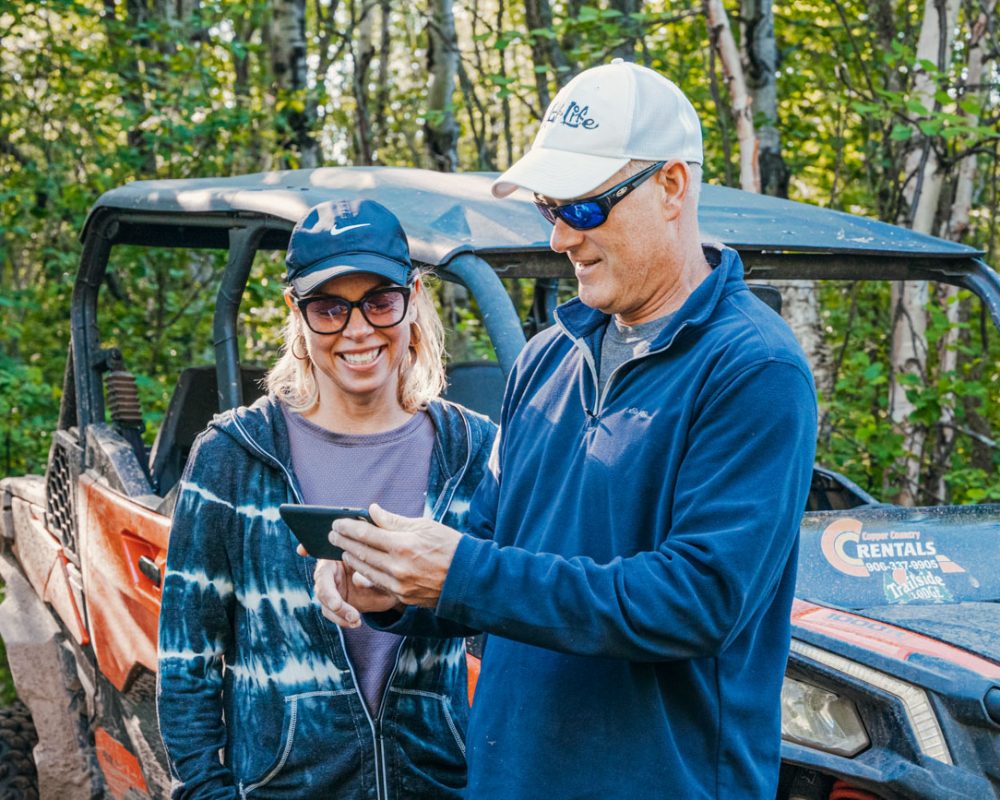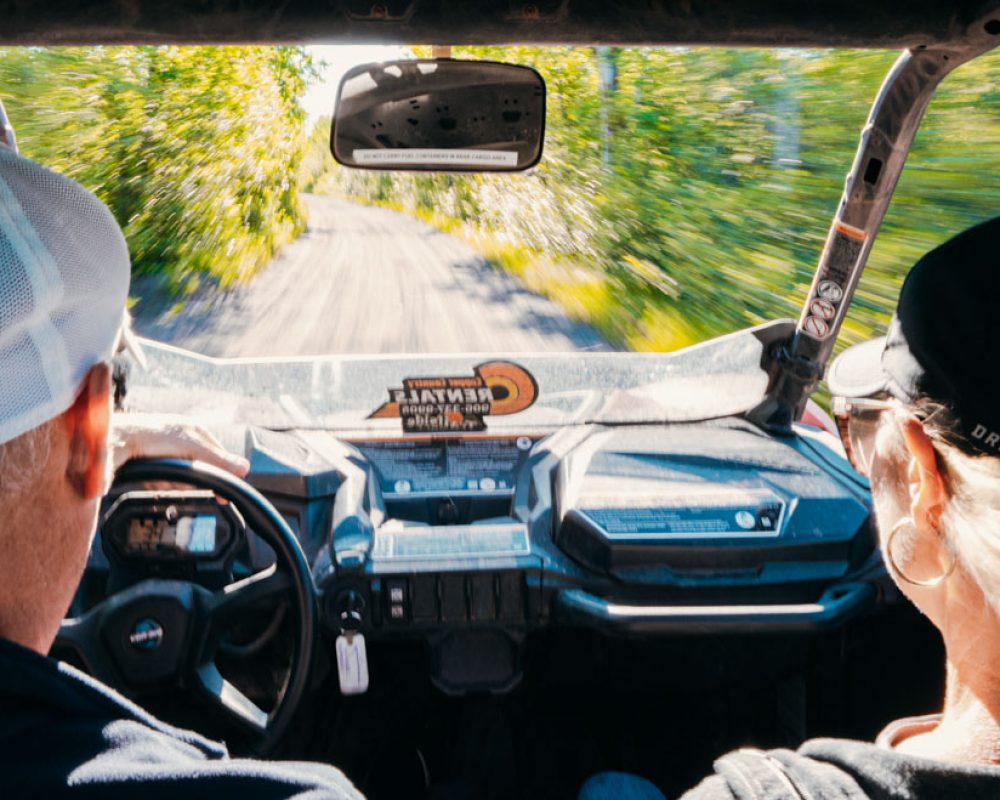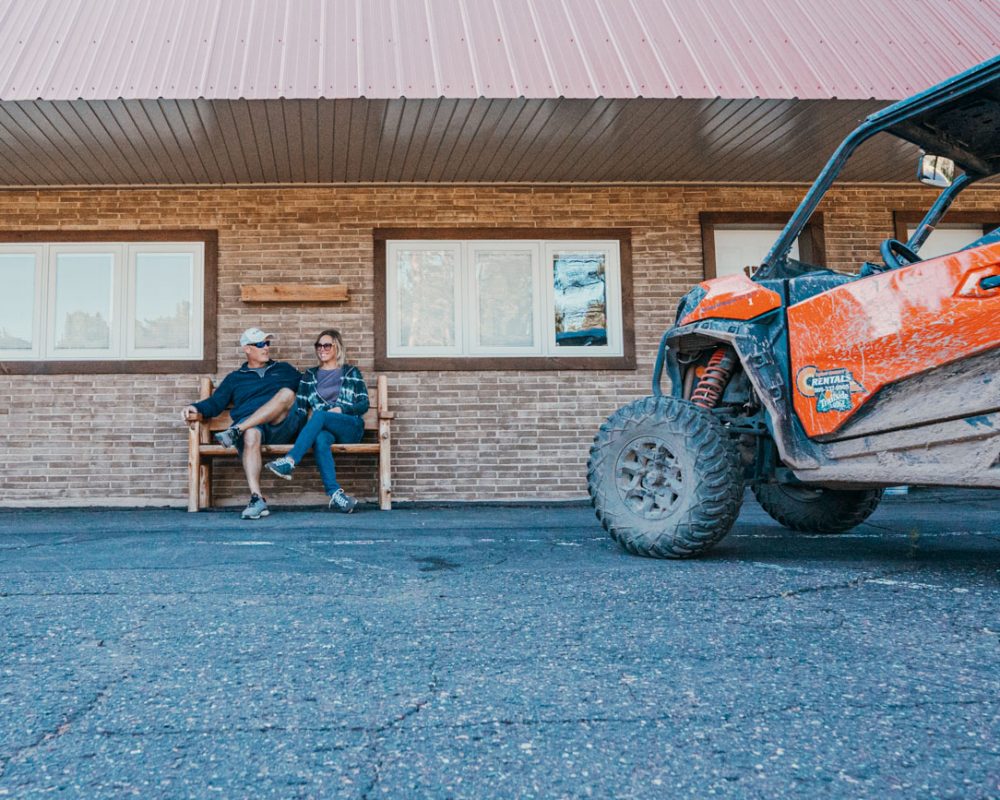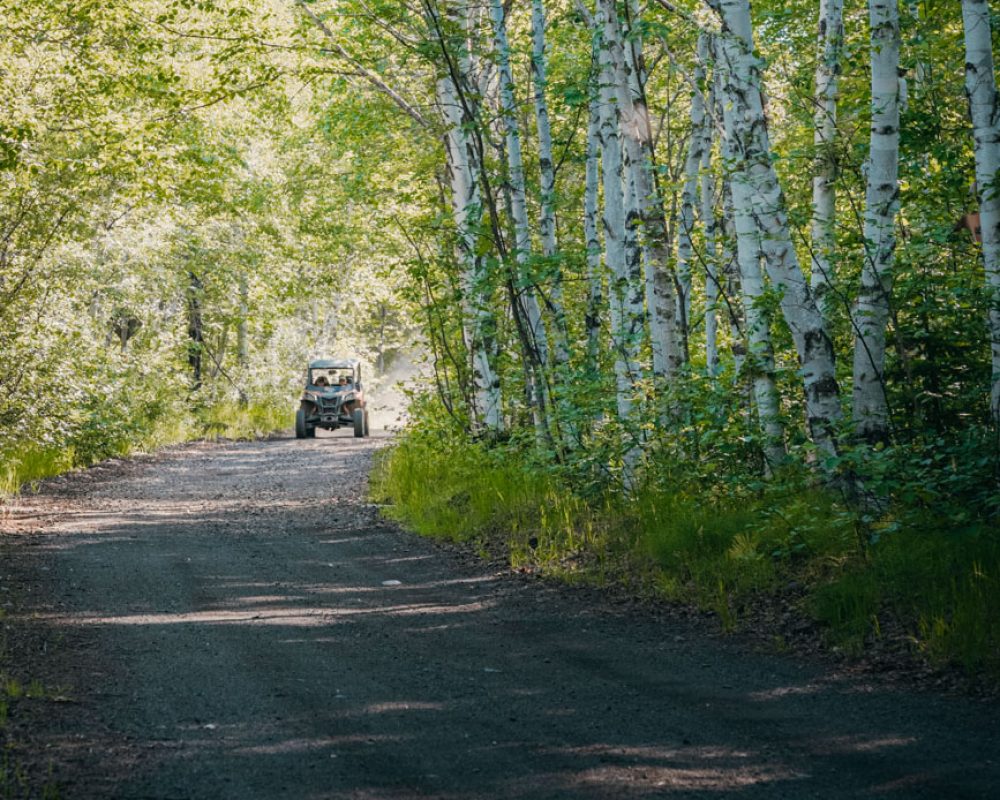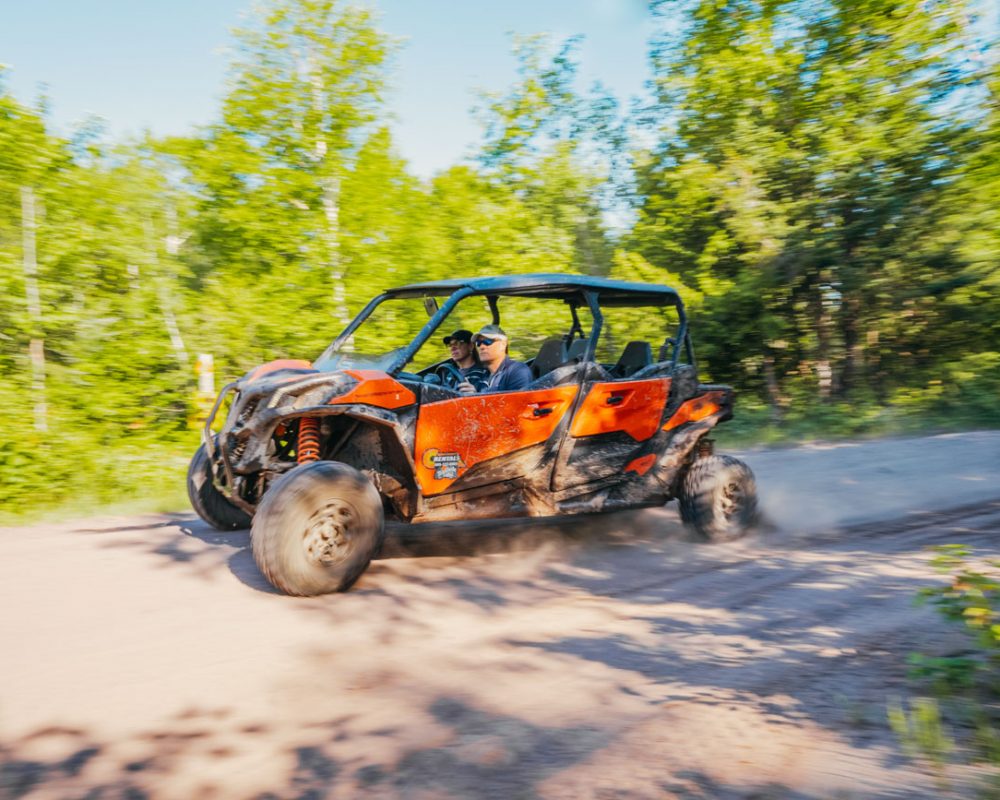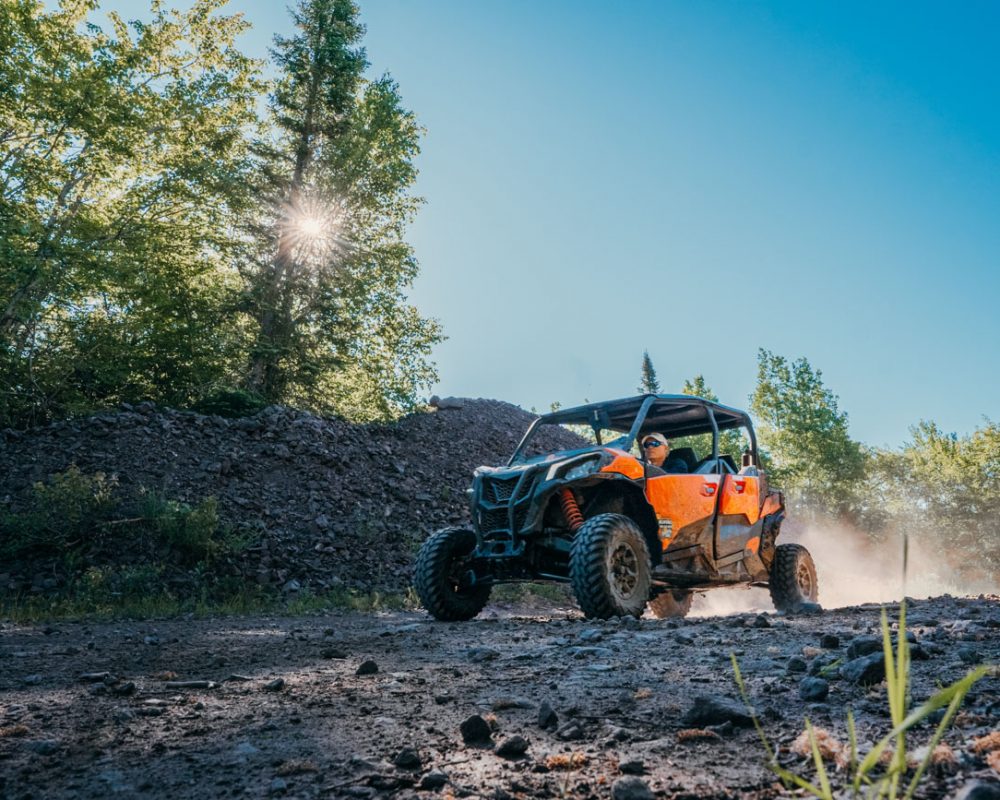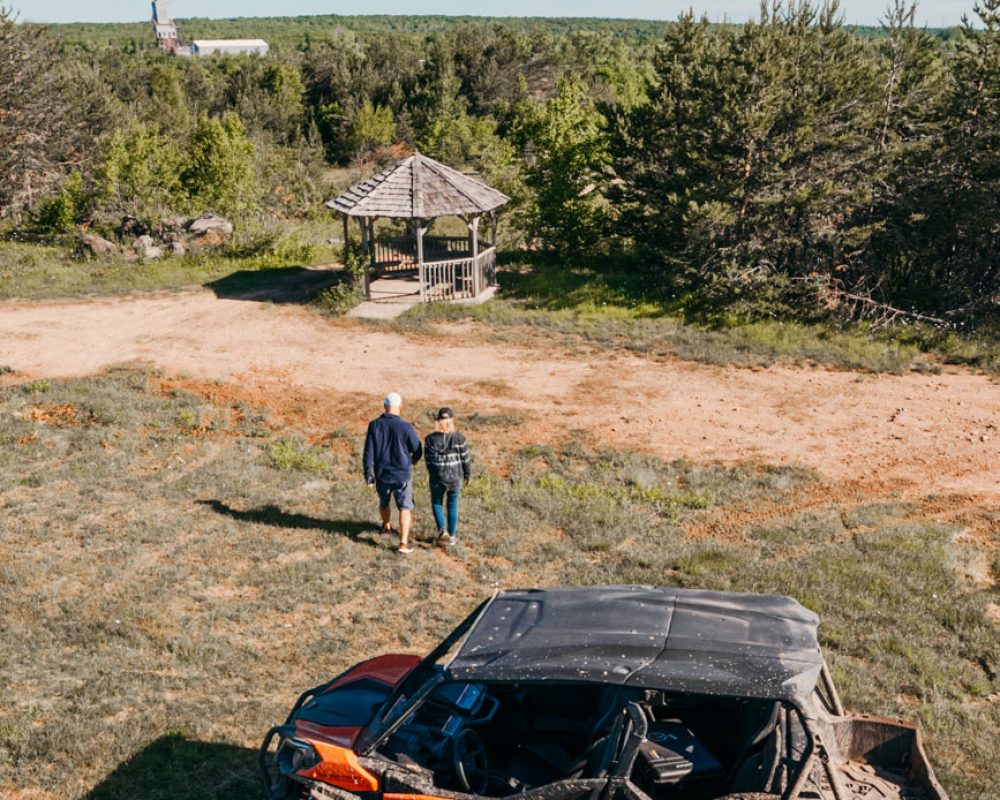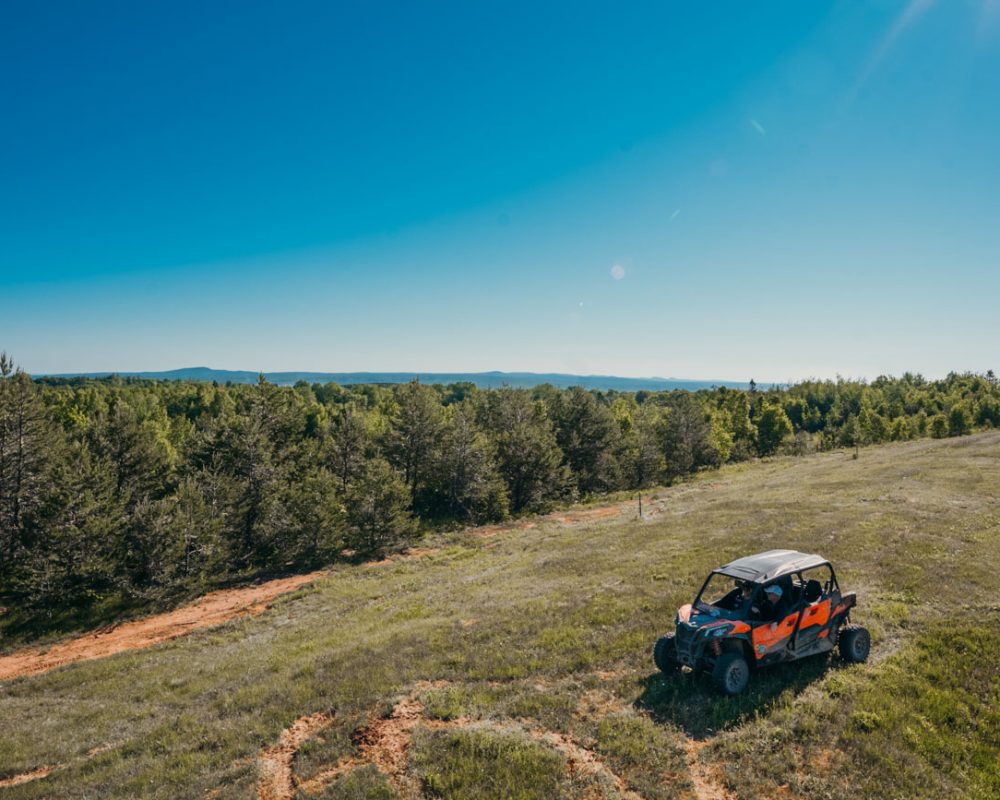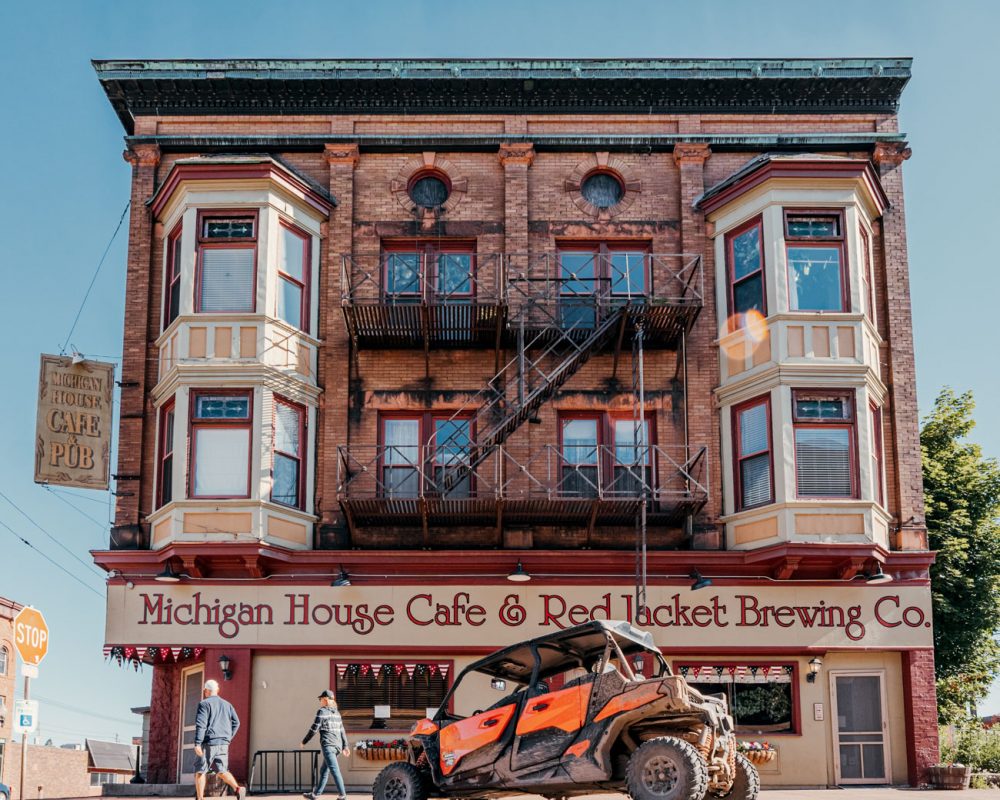 Earlier this summer hit the trails with Chris and Sue, Owners of Trailside Lodge, to take some photos for the Keweenaw Convention & Visitor's Bureau. The photos are now being used throughout KCVB's marketing materials to highlight the area's trail network and attract riders to the Keweenaw. Our morning ride took us north of Calumet for some scenic trail shots and some pretty amazing lookouts. We ended up back downtown Calumet at the Michigan House – one of the best places to stop after a long day of riding. 
Between Houghton and Keweenaw counties, there are 160 miles of ORV trails and over 180 miles of State Forest Roads open to ORVs. And those are just the official trails. The unofficial trails (old logging roads, snowmobile trails, and county roads) make up hundreds of more miles and are awesome places to explore. Most of these trails are unmarked on the printed trail maps but we use OnX to plan out our more remote trips. The app lets us look for these unmarked trails, makes us aware of property owners, and allows us to download the map data for offline use. This offline mode is extremely useful in the Keweenaw, considering lack of cell service in the remote areas. Google maps can also be used for offline maps.
Our Favorite Rides in the Keweenaw
We put together a list of our recent rides which happen to be some of our offroad destinations in the Keweenaw. Just like everything in the Keweenaw, a few of these destinations are hidden gems and take time to reach. As always, treat every trail and destination with respect and leave them in better condition than you found them. 
Starting in Hancock, head north on the on the main ORV trail (#17) for about 5 miles. You'll cross a few roads and eventually come up on a man-made pond – Boston Pond. In the late 1880s, Boston Creek was dammed up for mining purposes. The DNR owns a chunk of the northern shore, where you'll find a basic boat launch and a picnic table. This area makes for a great snack stop and wildlife viewing area. Northern Pike can been spotted right next to shore and there's usually an abundance of birds including swans, red wing black birds, ducks, geese, and more. 
Hop on trail 122 near Gay Lake Linden Road and head east to Gay. You'll start off riding through trails made up of white beach sand. The white sand turns to red. Then you'll hit the black sand. This black sand is actually copper mining waste that was dumped along the lake about 100 years ago. The sand has been shifting south, wreaking havoc on the critical trout fishery, the Grand Traverse Bay Harbor, and of course the beaches and properties along the lake. Learn more about the stamp sands here. 
Once you reach unincorporated community of Gay, Michigan, you'll ride past the Gay Bar and head north on Gay Lac La Belle Road for about a half mile. Right before the Tobacco River bridge, take a right into the park area. This park is where the Tobacco River's root beer-colored water flows into the clear blue waters of Lake Superior. There are very nice picnic tables and few metal grills available. Make sure to bring some charcoal and grilling supplies. Grilling out beside the Greatest Lake is something everyone needs to experience. Trout can been caught under the bridge and you'll often see other fish (mostly suckers) hiding in the shade during certain months of the year. Depending on how calm the water is, you may be able to see an old cart rail extending out into the lake.
This trip is about 50 miles round trip starting from Houghton/Hancock. Starting from Houghton, head south on trail 3. The trail will take you around Atlantic Mine, through South Range, and south towards Twin Lakes. There are some old mining ruins along the way that are fun to explore. Once you arrive to the gas station (4 Seasons Convenience), you'll continue for about two hundred yards and cross the highway to Twin Lakes State Park. You can't miss it. This is another awesome place to stop and grill out for lunch. There are plenty of metal grills and picnic tables around. There's a state boat launch and beach within the park, so make sure you bring your swimsuit and a towel.
Alternatively, bring your tent/camper and favorite off-road vehicle(s) to Twin Lakes State Park and stay for a week. When we rode through the campground, almost every camp site had at least one side by side, four wheeler, or dirt bike parked nearby. With the trail being right across the highway, trail access is extremely easy.
Copper Harbor / Tip of the Peninsula​
For longer trips near the big lake, we recommend riding to Eagle River, Eagle Harbor, Copper Harbor, and beyond. The Trailside Lodge is conveniently located on the trail just north of Calumet and makes for a great basecamp for these trips. From Copper Harbor to the tip of the Keweenaw, the trails are endless. Make a point to ride into Horseshoe Harbor for an excellent view and some rock picking. Then continue to High Rock Bay for some epic photos. The old rocket launching station is nearby. The Keweenaw ATV Club recently opened a new trail to Fish Cove. It ends at a new graveled parking lot near Lake Superior. The view is worth the ride. The new trail is multi-use so it can be used by fourwheelers, side by sides, bikers, hikers, and snowmobiles.