Michigan Tech Virtual Youth Programs
Michigan Tech Center for Educational Outreach was left in quite the predicament – as most everyone else was – when the pandemic hit. Each year they host a program on campus called Summer Youth Programs (SYP) for middle and high school students who are interested in STEM programs. Like everything else, SYP was forced to go virtual. 
Michigan Tech Center for Educational Outreach did an amazing job with this transition. With a small staff and short timeline, the typical hands-on experiences were transferred from campus right into the student's home through boxes of tangible items. After a successful summer with their courses, they saw a huge opportunity for this program outside of just the summer. The program was named virtual Youth Programs (vYP) and was ready to expand outside of the summer months as a separate program from SYP. Now it just needed a brand. 
The goal for this project was to deliver a visual brand identity that was backed by a strong messaging strategy and direction to recruit students for the program, and be set to meet their goals of expansion in the future. Our two deliverables were a logo and a tagline with a functional pairing hashtag and messaging strategy. These things had to embody the high academic status and standards of Michigan Tech while also showcasing a playful and more lighthearted aspect that made vYP a place to try new, fail fast, and learn in the process. Where success isn't the goal, but being part of the program should be.
After a powerful kickoff meeting with Center for Educational Outreach we got straight to work. We started by identifying and understanding the audience. As we age, we forget what it's like to be a kid. Today, most kids grow up with technology so it becomes harder for us to identify with them. We discovered that these kids are thinkers, builders, explorers, developers, change makers, leaders, and innovators. They have BIG ideas and are looking to make something happen with those ideas. 
The challenge we found is vYP isn't just one thing for one person. Even though all of these students share the same drive, they do not share the same space or talent. We had to make the messaging and brand for these students strong, inspiring, and personal to them, while covering the breadth of offerings in vYP. This also had to account for the hands-on aspect of vYP, making sure that it was student-centric instead of talking up the company. 
While building the logo we needed to be accurate with knowing what our audience would connect with. We wanted to build something the students would be proud to wear, share, and use to talk about themselves. This logo also had to showcase a strong academic standing while still being inviting and playful. 
Planning to be branded as vYP instead of Virtual Youth Programs, we needed to provide them a full logo, as well as a logo mark where vYP could live alone. The logo also needed to show a relationship with Michigan Tech itself to uphold the academic status of the program, all while relating to these students and how they want to represent themselves.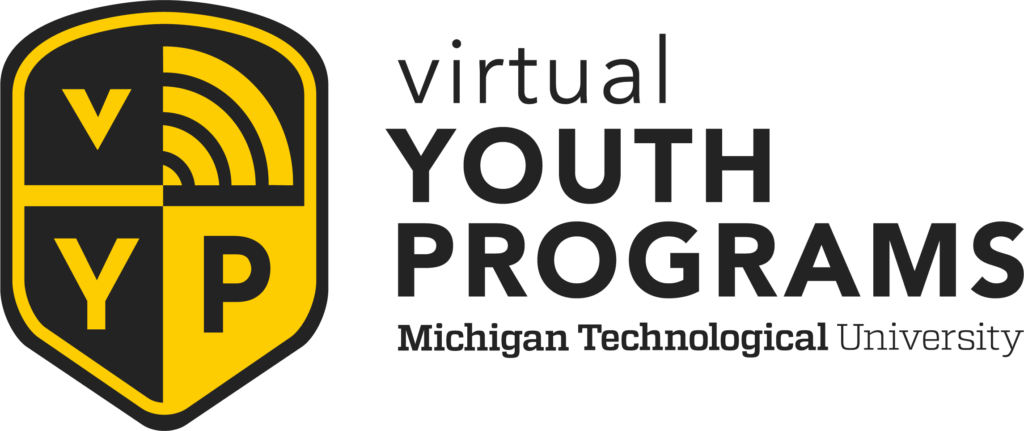 Logo Design
Tagline and functional social hashtag
Create a new brand within an existing brand 
Design a logo that is playful, yet academically strong
Tight budget and timeline
vYP has a range of offerings – they aren't just one thing for one person 
Born Creators
#WeAreBornCreators
#WeAre__________
This tagline is something that students can identify with and are proud to use when talking about themselves without coming off arrogant or elitist. It encloses the drive and ability to accept failure to reach a desired outcome. The ability to create involved high levels of thinking, drive, and passion for whatever program it is they choose to be a part of. This tagline also highlights the organization by hosting these types of people. 
Supplementing that lives a #WeAreBornCreators hashtag with the option to leave the Born Creators section blank and fill in with a list of words provided through our research. 
Thinkers

Builders

Explorers

Developers

Change Makers

Leaders

Innovators