In early 2019, Mark and Laura bought Julie's Motor Inn and began the process of making it their own. This started with a much-needed name change – Copper Country Inn. We then met with the new owners to discuss their vision for the Inn and how we could reflect that in a new logo and website. Their ideal customers were young explorers that traveled to the Keweenaw for epic outdoor adventures – mountain biking, trail riding, hiking, kayaking, and all the other awesome stuff we do here.
The vast majority of their guests would wake up before sunrise, grab a cup of coffee and chat with Mark in the lobby, then go explore the Keweenaw until sunset before returning to the Inn for a clean and comfortable to sleep. The Inn would be the perfect basecamp for adventurers while providing that hard-to-find small town warmth and hospitality.
With this in mind, we got started on a few logo concepts. During the design process, we wanted to incorporate the outdoors while retaining some of that classic motel feeling.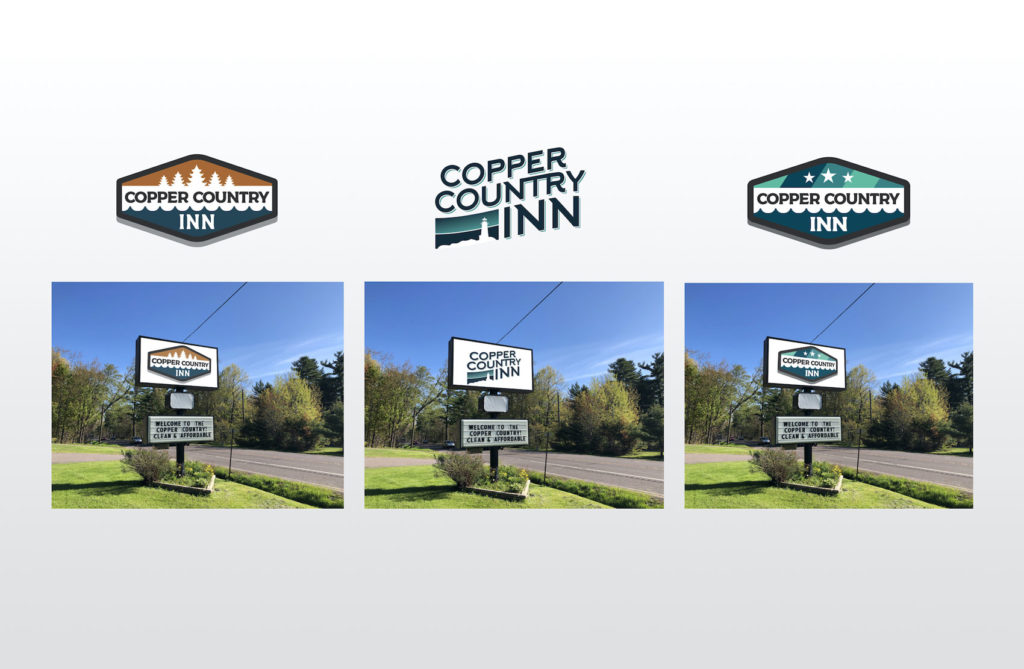 After dozens of ideas, we came up with three concepts and presented them to Mark and Laura. To our delight, they chose our favorite design. We did a little polishing and arrived at the final design. Next, we sent the artwork over to our friends at Industrial Graphics. We love watching these guys take our digital files and create beautiful signs with them. A few weeks after completing the logo project, we got to see the new logo all lit up, sitting right between the Inn's full parking lot and US41.